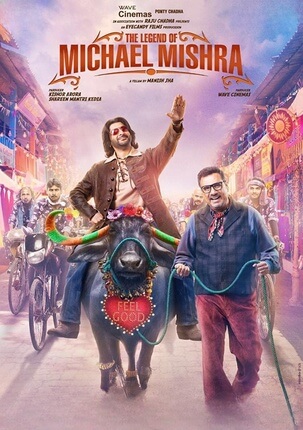 The Legend of Michael Mishra
Category:
Relased: August 5, 2016
4.4
2 h 5 min
1080P
Directed by Manish Jha.
Written by Anshuman Chaturvedi. Manish Jha. Vijay Kapoor. Sneh Nihalani. Radhakrishnan.
Cast Aditi Rao Hydari(Varsha Shukla). Arshad Warsi(Michael Misra). Boman Irani(H. P.). Kayoze Irani(HP (Half Pant)). Ashish Warang(Tiwari (rumored)). Saloni Batra(Audition girl (rumored)). Yuri Suri(Jailor). Abhay Bhargava(Chacha (rumored)). Gyanendra Tripathi(Cafe manager (rumored)). Sharat Sonu(Pantar_Pintu). Shashi Ranjan(Gang Member). Vishwa Bhanu(Scientist). Anshuman Chaturvedi(Mukund kumar (rumored)). Sumeet Samnani(Tiwari's son (rumored)). Gulfam Khan(Chachi (rumored)). Aasokaa(Blind Monk). Karim Haji(Director (rumored)). Jack Wayne(Singer). Kunal Sharma(MM, Mithilesh Mathur). Satya Ranjan(Pantar1). Gaurav Sameley(Chandan (as Gaurav Samoley)). Akshay Bhagat(Dr. Bhatia). Gracevera Kaur(Young varsha). Ganesh Kumar(Anchor (rumored)). Rhea Dang(Shanti bai (rumored)). Kunal Gupta(Student). Rajesh Singh(Shanichar (rumored)). Mohit Balchandani(Young michael (rumored))
Language Hindi.
Producers Kishor Arora. Shareen Mantri Kedia. Kanwal Kohli. Angarika Mantri. Priti Vishwakarma.
Production Eye Candy Films.