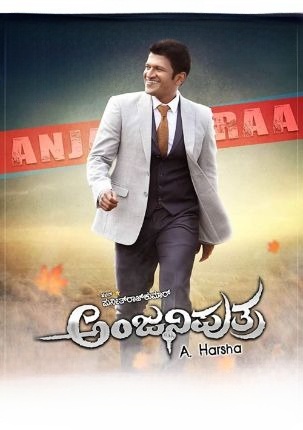 Anjaniputra
Category:
Relased: December 21, 2017
6.0
2 h 29 min
1080P
Directed by Harsha.
Written by Harsha.
Cast Puneeth Rajkumar(Veeraj). Rashmika Mandanna(Geetha). Ramya Krishnan(Anjana Devi). Mukesh Tiwari(Bhairava). P. Ravi Shankar(SP Surya Prakash). Akhilendra Mishra(Raj Thakur). V. Manohar(Geetha's father). Seetha Kote(Geetha's mother). Sadhu Kokila(Servant at Viraj's house). Chikkanna(Servant at Viraj's house). Mithra(Karimale, Viraj's friend). Harini Chandra(Viraj's aunt). Radha Ramachandra(Viraj's Grandmother). Cockroach Sudhi(Suri, Right hand of Bhairava). Haripriya(Special appearance in the song '1234 Shille Hodi') . Ratnakar Mavilach(Geetha's Cousin (as Ratnakar Upadhayay))
Language Kannada.
Producers Rengarajan Jaiprakash. Hitesh Patel.
Production K N M Movies banner. MNK Movies.