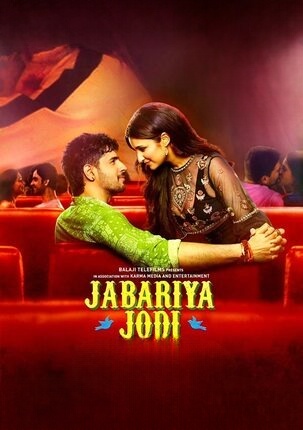 Jabariya Jodi
Category:
Relased: August 9, 2019
4.0
2 h 5 min
1080P
Directed by Prashant Singh.
Written by Sanjeev K Jha.
Cast Sidharth Malhotra(Abhay Singh). Parineeti Chopra(Babli Yadav). Jaaved Jaaferi(Hukun Dev Singh (as Javed Jaffrey)). Sanjay Mishra(Duniya Lal Yadav). Aparshakti Khurana(Santosh). Anupam Mishra(Photographer). Saurabh Mann(Abhay's henchman). Aryaan Arora(Abhay) . Mohammad Farman Ali(Padosi). Elli Avrram(Dancer in the song 'Zila Hilela'). Shashank Awasthi(Saleem). Mohit Baghel(Halla). Kritika Buden(Shreya). Sheeba Chaddha(Abhay's mother).Alok Gagdekar. Sharad S. Kapoor(Daddan Yadav). Rakhi Kishor(Mrs. Pathak).Sandeep Kumaar. Nutan(Dancer). Jay Singh Rajpoot(Puttan). Rohit Rai Sahab(Raman). Alankrita Sahai(Dancer in the song 'Macchardani'). Chandan Roy Sanyal(Guddu). Shayank Shukla(Pintu). Shivakant Shukla(Ravan (Background theatre scene)). Abhishek Srivastava(Audience boy).Ammar Taalwala. Priyank Tiwari(Kanhaiya kushwaha). Sawan Tiwari(Waiter (uncredited))
Language Hindi.
Producers Akash Singh Bhadauriya. Rituparna Chowdhury. Ekta Kapoor. Shobha Kapoor. Sunil Dolamani Panda. Nishant Pitti. Ruchikaa Kapoor Sheikh. Shaailesh R Singh. Hitesh Thakkar. Alok Tripathi.
Production Balaji Motion Pictures. Karma Media And Entertainment.