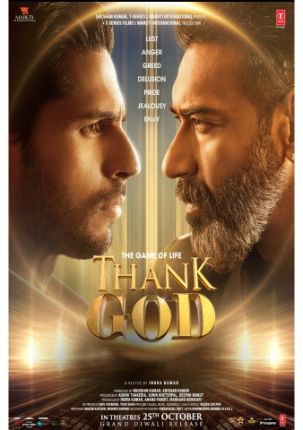 Thank God
Category:
Relased: October 25, 2022
5.6
2h 1 minute
1080p
Directed by Indra Kumar
Written by Aakash Kaushik. Anders Matthesen. Samuthirakani
Cast Sidharth Malhotra (Ayaan Kapoor). Ajay Devgn (Chitragupta (CG)). Nora Fatehi (Nora Fathei). Jitendra Kumar (Bank Customer). Rushali Jadhav (Apsara 2).Arnob Khan Akib. Mahesh Balraj (YD (Yamdhoot)).Vishal Bhavsar. Pratik Dixit (Aayan's brother in law). Sumit Gulati (First couple to by the bungalow male). Sanjay Gurbaxani (Doctor). Sammy Jonas Heaney (Foriegner).Rofique Khan.Sharik Khan. Kiara Khanna (Pihu Aayan Malhotra). Vikram Kochhar (Inspector Tambe). Urmilla Kanetkar Kothare (Aayan's Sister). Sandeep Kumar (Second couple to by the bungalow male).Ariyan Mehedi. Satish Naikodi (Police officer). Seema Pahwa (Aayan's Mother). Anjali Schmuck (Apsara 1). Dhanay Seth (Beggar lady grandson). Gurinder Seth (Man In Bank). Kiku Sharda (Fat guy in lift). Sanjeev Sharma (Car owner). Soundarya Sharma (First couple to by the bungalow female). Sunita Shirole (Begga routside temple). Kanwaljeet Singh (Aayan's Father). Rakul Preet Singh (Ruhi Kapoor).Shalani Tharaka. Gyanendra Tripathi (Bank Robber). Saanand Verma (Doctor). Rupali Yadav (Secon couple to by the bungalow female). Heera Sohal (Ayaan's Secretary). Prachi Thakur (Young Ayaan's Sister)
Languages Hindi
Producers Markand Adhikari. Alex Anthony Fernandes. Pitambar Kharal. Sunir Kheterpal. Bhushan Kumar. Indra Kumar. Krishan Kumar. Dilip Mistry. Deepak Mukut. Anand Pandit. Yash Shah. Ashok Thakeria. Awdhesh Upadhyay.
Production Anand Pandit Motion Pictures. Azure Entertainment. Maruti International