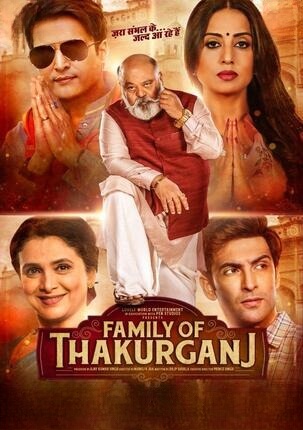 Family of Thakurganj
Category:
Relased: July 19, 2019
6.5
2 h 7 min
1080P
Directed by Manoj K. Jha. Prince Singh.
Written by Dilip Shukla.
Cast Jimmy Shergill(Nannu (as Jimmy Sheirgill)). Mahie Gill(Sharbati). Nandish Singh Sandhu(Munnu (as Nandish Sandhu)). Pranati Rai Prakash(Suman). Saurabh Shukla(Baba Bhandari). Sudhir Pandey(Jagat Chacha). Supriya Pilgaonkar(Sumitra Devi). Pawan Malhotra(SP Rathore). Yashpal Sharma(Sajjan Singh). Mukesh Tiwari(Badri Pathak). Puneet Singh(Lodha son). Raj Zutshi(Ballu Thapa). Salil Acharya(Murali). Shivika Rishi(Lali). Lokesh Tilakdhari(Riyaz) . Tulika Banerjee(Reporter). Harshit Gupta(Shankar (as Harshit Gupta)).Iamrealmohsin. Zohab Khan(Chor). Priya Mishra(Lata). Devendra Modi(Farmer). R.C. Pathak(Muneem (as Rc Pathak)). Vikas Rai(Main Cheater Student in College). Kalpesh Rajgor(Bambam). Sarthak(Jimmy's Gang). Shivangi(Reporter). Puneet Shukla(Puneet Lodha Son of justice lodha). Vishal Singh(Munnu child). Ravish Srivastava(Owner Of An Ashram).Aeklavya Tomer. Vikram Wadhwa(Police Officer). Uday Vir Singh Yadav(IG Police (credit only))
Language Hindi.
Producers Ajay Kumar Singh.
Production Lovely World Entertainment.