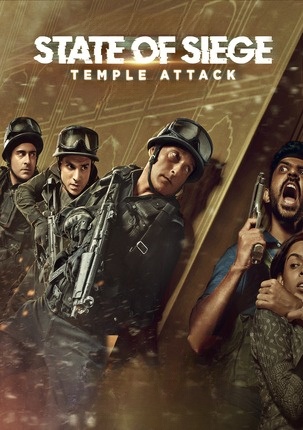 State of Siege: Temple Attack
Category:
Relased: July 9, 2021
7.7
1 h50 min
1080P
Directed by Ken Ghosh
Written by William Borthwick. Simon Fantauzzo. Farhaan Salaruddin. Abhimanyu Singh
Cast Akshaye Khanna(Major Hanut Singh). Gautam Rode(Major Samar). Vivek Dahiya(Capt. Rohit Bagga). Abhimanyu Singh(Abu Hamza). Parvin Dabas(Colonel Nagar). Samir Soni(CM Choksi). Mir Sarwar(Bilal Naikoo). Akshay Oberoi(Capt. Bibek (Special Appearance)). Manjari Fadnnis(Saloni (Special Appearance)). Abhilash Chaudhary(Iqbal). Dhanveer Singh(Hanif). Mridul Das(Farooq). Mihir Ahuja(Omar). Anushka Luhar(Sejal). Pavleen Gujral(Female Security Guard at Temple). Kallirroi Tziafeta(Angela (as Kalliroi Taziafetta)). Sanjay Gurbaxani(Vashal). Chandan Roy(Mohsin). Kenneth Desai(Swami Matora (as Kenny Desai)). Harsh Singh(Harilal (as Harssh Singh)). Rohan Verma(Chintu). Govind Pandey(Desai). Anupam Bhattacharya(Pavan). Myrah Dandekar(Rupal (as Myra Dandekar)). Harish Khatri(Mr. Verma). Neeta Mohindra(Mrs. Verma). Vijay Mehta(Akshay Anand). Shivam Bhaargava(Capt. Abrar Khan). Auritra Ghosh(Lata). Abha Ranta(School Teacher). Maira Doshi(Mehbooba Noor). Neha Harosa(Young Kashmiri Girl). Karan Mehat(Naik Dutta). Prakhar Shukla(Hawaldar Santosh Singh). Prashant(Hawaldar Pritam Singh). Arpita Sethia(Captain Medical Officer). Shiv Sharma(Driver of White Ambassador). Ravi Kothari(Worshipper 1). Shantosh(Worshipper 2). Naresh Prajapati(Choksi Aide). Sameer Pahadiya(Security Guard 1). Amruta Vedpathak(News Reporter). Abhay Mishra(Islamist Guard I). Inzmam(Islamist Guard II (as Inzaman)). Surbhi(Female News Reader). 
Language Hindi
Producers Afaaq Khan. Varsha Lalwani. Rahul K Parashar. Abhimanyu Singh. Roopali Singh. Abhay Kumar Thakur. Saurabh M. Vanzara.
Production Contiloe Films.. Contiloe Pictures