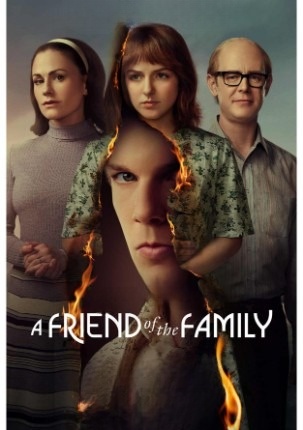 A Friend of the Family
Directed by Rachel Goldberg. Eliza Hittman. Steven Piet. Jamie Travis. Lauren Wolkstein.
Written by Nick Antosca. Nick Antosca. Brian Evenson. Brian Evenson. Alana B. Lytle. Alana B. Lytle. Marie Hanhnhon Nguyen. Marie Hanhnhon Nguyen. Brian Chamberlayne. Brian Chamberlayne. Brian Chamberlayne. Lucy Teitler. Lucy Teitler. Julia Batavia. Rachael Paradis. Diana Pawell.
Cast Colin Hanks (Bob Broberg). Lio Tipton (Gail Berchtold). Anna Paquin (Mary Ann Broberg). Hendrix Yancey (Young Jan Broberg). Austin Stowell (Pete Welsh). Joe Chrest (Bishop Matthew Paulsen). Mckenna Grace (Jan Broberg). Mila Harris (Young Karen Broberg). Elle Lisic (Young Susan Broberg). Maggie Sonnier (Older Karen Broberg). Norah Murphy (Older Susan Broberg). Meg Steedle (Sherry). Wyatt Parker (Jasper Berchtold). Tyler Wojton (Joel Berchtold). Patrick Fischler (Garth Pincock). Philip Ettinger (Joe Berchtold). Bree Elrod (Jennifer Ferguson). Jason Davis (Spencer). Jace Millican (Jacob Berchtold). Keilah Davies (Young Caroline Hansen).
Language English.
Producers Nick Antosca. Jan Broberg. Mary Ann Broberg. Brian Chamberlayne. Erik Crary. Alison Parham. Lucy Teitler. Jamie Travis. Alex Hedlund. Skye Borgman. Eliza Hittman. Patty Long.
Production Eat the Cat. Top Knot Films. Universal Content Productions (UCP).
No. of Seasons 1
No. of Episodes 9
Status Finished (4)