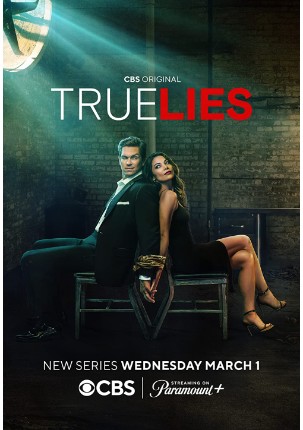 True Lies
Directed by Anthony Hemin/Epgway. Jay Karas. Robert Duncan McNeill. McG.
Written by James Cameron. Didier Kamin/Epka. Simon Michaël. Matt Nix. Matt Nix. Matt Nix. Claude Zidi. Marc Guggenheim.
Cast Erica Hernandez (Maria 1). Steve Howey (Harry 1). Annabella Didion (Dana). Mike O'Gorman (Luther). Lucas Jaye (Jake). Omar Benson Miller (Gib). Beverly D'Angelo (Trilby). Deneen Tyler (Mrs. Myers). Carlo Rota (Francois). Angélica Celaya (Ximena Díaz). Jackson Hurst (Harold). Andrea Laing (Cherry). Pasha D. Lychnikoff (Grozdan). Christian Juru (Valet). Franco Castan (Taxi Driver). Joseph Steven Yang (Professor). Ray Gaspard (Lawrence). Lion Way (Mike). Jeremy Dean (Construction Crew). John Jabaley (Fred). Liann Pattison (Donna). Jenny Mercein (Professor Gilpin). Kim Matula (Lisa). Owain Yeoman (Voss). Danielia Maximillian (Flor). Elizabeth Carlile (Tiffany). Darri Ingolfsson (LEGND). David Lengel (Doug). Tom Connolly (Ian). Neal Kodinsky (Müller). Bodhi Rader (Security Guard). Christopher Cocke (Guard). CC Crain (Waitress). Charles Ambrose (Commando #2). Danielle Tarmey (Alice). Forrest Briggs (Paramedic). T.J. Garland (Omega Driver). Josh Royston (Guard). Scott Green (Professor BBQ Guest. Elton LeBlanc (Upscale Party Guest. David Joseph Martinez (Dr. Milford. Rick Nehls (Doom Patrol)
Language English.
Producers James Cameron. Anthony Hemin/Epgway. Josh Levy. Corey L. Marsh. McG. Matt Nix. Rae Sanchini. Mary Viola.
Production Flying Glass of Milk Productions. Lightstorm Entertainment. Wonderland Sound and Vision.
No. of Seasons 1
No. of Episodes 13
Status OnGoing (2023–)