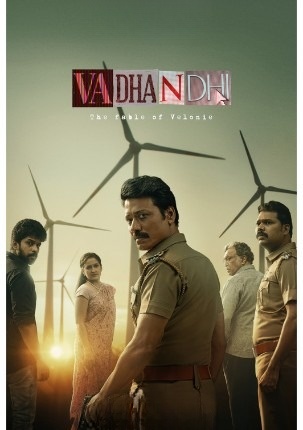 Vadhandhi: The Fable of Velonie
Directed by Andrew Louis.
Written by Andrew Louis.
Cast Sanjana (Velonie). Laila (Ruby). Nassar (KI Sebastian). Vivek Prasanna (Ramar). Vaibhav Murugesan (Jones). Smruthi Venkat (Anandhi). Ashwin Kumar (Santhosh). Avinash Raghudevan (Sanjeev). Vikky Aadithya (Sunny). C. Sujatha (Rani). Hareesh Peradi (Sethuraman). Kumaran Thangarajan (Vignesh). Aruvi Balaji (Alex). G Maheshwaran (Amalraj). Kulappulli Leela (Old Lady). Kavin Jay Babu (Paulraj). M. Meeran Mitheen (SP). S. Vincent (Vetri). Ashwin Raam (Tony). V. Dasarathy (Minister). Vetri Kiran (Minister PA). Kamatchi (Megha). Noble (Gulu). Madhuri Watts (IT Women). Santhosh Selvamani (IT Men). Hari (IT Men). Christina Mary (Rossalyn). K. Subramanian (Anandhi Father). Indumathy Manikandan (Anandhi Mother). Swetha Venugopal (Darshini). Neelambari (Alex Sister). Mirdhula (Sevvandhi). N. Avudai Nayagam (Erinal SI). Rama Srinivasan (Aunty June). V.T. Balajhee (Velraj). Chandrasekar (Sadhasivam). Aslam (Eddy). Cedric Sean Abernathy (Tony Father). Yadhiv (Baby Appuchi (1 Year)). K. Lingeswaran (Baby Appuchi (2 Year)). V. Renganathan (Anil). T. Vijaya (Alex Mother).
Languages Tamil. English. Hindi. Telugu. Malayalam. Kannada.
Producers Gayatri. S. Guhapriya. Kanish Prabhu. Pushkar. Gowtham Selvaraj. Nandakumar Srinivasan.
Production Wallwatcher Films.
No. of Seasons 1
No. of Episodes 8
Status On Going (2022–)