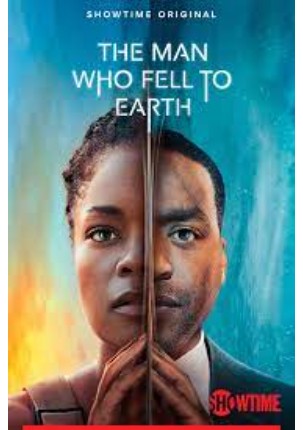 The Man Who Fell to Earth
Category:
Relased: April 24, 2022
7.2
1 h/ep
1080P
Directed by Alex Kurtzman. Joss Agnew. Sarah Harding. Olatunde Osunsanmi.
Written by Alex Kurtzman. Alex Kurtzman. Alex Kurtzman. Jenny Lumet. Jenny Lumet. Jenny Lumet. Walter Tevis. Jane Maggs. Jane Maggs. Jane Maggs. John Hlavin. John Hlavin. Michael Alaimo. Michael Alaimo. John Lopez. John Lopez. Helen Shang.
Cast Naomie Harris( Justin Falls 1) . Annelle Olaleye( Molly Falls 1) . Clarke Peters( Josiah Falls 1) . Bill Nighy( Thomas Newton). Jimmi Simpson( Spencer Clay). Sonya Cassidy( Edie Flood). Joana Ribeiro( Lisa Dominguez). Rob Delaney( Hatch Flood). Tanya Moodie( Portia). Kate Mulgrew( Drew Finch). Art Malik( Henning Khan). Coral Messam( Faraday's Wife). Zurielle Tagoe( Faraday's Daughter). Emilio Villa-Muhammad( Faraday's Son). Robert Daws( Wyant Bridge). Laurie Kynaston( Clive Flood). Victoria Smurfit( Penny Morgan). Quelin Sepulveda( Vicki). Juliet Stevenson( Mary Lou Prescott) . Hannah Bristow( Yatzin). Joshua McGuire( Zach). Daniel Topic( Tim). LJ Parkinson( Chantal). Tomi May( Aaron Bismarck). Sarah Hadland( Lucy). Louie Mynett( Young Clay) . Sarah Quist( Jocelyn). Josh Herdman( Terry Mannch). Mitchell Mullen( CIA Director Wincamp) . Montserrat Lombard( Ashleigh Fiore). Zoë Wanamaker( Watt). Robert Jezek( Chief of Staff). Martha Plimpton( Intake Officer K. Faraday). Sebastián Capitán Viveros( Mike The Mechanic). Gerard Monaco( Officer Haugenoe). Olivia-Mai Barrett( Alicia). Felix Garcia Guyer( Manager). Joshua Whiting( SAS Lead). Nadia Albina( Young Entrepreneur). Christian Contreras( Officer Pearson). Victor Alli( Danny Holland). Kenyah Sandy( Child Faraday). Jayne Aguire( Daisy). Adrian Lukis( Edward Flood). Sally Rogers( Gail). Jeff Mirza( Cabbie). Christopher Simpson( Michael). Derek Miller( Angry Officer). Yao Chin( TV Anchor). Peter Pedrero( SWAT 1). Anna Francolini( Ticket Agent). Raji James( Rajiv). Clayton T. Smith( Seedy Fracking Site Guy). Adwoa Brown( Heather). Freddy George( Young Clive Flood). David Sterne( Gent 1). Matthew George-Williams( Scary Dealer). Nichola McAuliffe( Lorraine). Paudge Behan( Young Papel). Fenton Chance( Lead Special Branch). Morgan Deare( Gent 2). Jude Mack( Kat). Kyle Abdullah( PMC Team Leader). Angela Sant'Albano( Client). Cornelius Booth( Professor Ellery Woads). Ricardo Castro( Hector). Sam Pamphilon( Mike the Gas Station Worker). Kenton Thomas( Killer) . Harriet Thorpe( Newsie Hat). Marcello Cruz( Boy wth Horse). Biz Lyon( Debra). Jake Fairbrother( Paramedic). Giles Cooper( Staffer). Florence Bell( Music Shop Employee). Richard Stirling( Bird Minder). Lynnruth Miller( Woman). Paul Freeman( Gregory Papel). Chris Lew Kum Hoi( Inventor). Anthonette Olaleye( Nurse). Vera Chok( Panelist #1). Anthony Adjekum( Doctor). Patrick Poletti( Director of National Intelligence). Christopher Colquhoun( Teddy Sloane). Liz Jadav( Prisha Kapoor). Jack Staddon( Cop). Gareth Snow( Mechanic (uncredited) 1) . Julie Williamson( Hero engineer (uncredited)). James Travis( Arguing man in diner (uncredited)). Zoltan Rencsar( Uniform Police (uncredited)). Stephen Samson( Fracker (uncredited)). Amedeo Fedeli( Cafe Customer (uncredited)). Cain Aiden( Airport Check-in Guest (uncredited)). Katie Margaret Hall( Katie (uncredited)). Adam Stocks( Origen Worker (uncredited)). Kyle Jerichow( Airport Police Officer (uncredited)). Alexander Mandrides( Bar Waiter (uncredited)). Caroline Bartholdson( Oblate (uncredited)). Paige Windsor( Waitress (uncredited))
Language English.
Producers Jon Dudkowski. Robyn Johnson. Adrian Kelly. Jane Maggs. Helen Shang. Bill Wolkoff. Stuart Sutherland. Aaron Baiers. Rola Bauer. Carl Beverly. Françoise Guyonnet. John Hlavin. Heather Kadin. Alex Kurtzman. Jenny Lumet. Sarah Timberman. Michael Alaimo.
Production CBS Studios. Secret Hideout. Timberman-Beverly Productions.
Creators Alex Kurtzman. Jenny Lumet.
Number of Seasons 1
Number of Episodes 10
Status Finished (2022–2022)