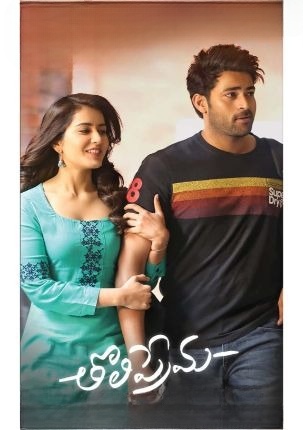 Tholiprema
Category:
Relased: February 2, 2018
7.2
2 h 17 min
1080P
Directed by Venky Atluri.
Written by P. Sathish Chandra.
Cast Varun Tej(Aditya Sekhar). Raashi Khanna(Varsha). Priyadarshi Pulikonda(Ravi (as Priyadarshi)). Apoorva Srinivasan(Kavita). V.K. Naresh(House Owner (as Naresh)). Suhasini(Aditya's Mother). Darbha Appaji Ambarisha(Aditya's Father). Joy Badlani(Varsha's Father). Vidyullekha Raman(Godavari). Hyper Aadi(Raju). Harsha Chemudu(Aditya's childhood friend (as Viva Harsha)). Kaus Sharma(Arpita). Colin Blyth(Family Wedding Guest). Nisha George(Family Wedding Guest). Vaunisha Kapoor(Family Wedding Guest). Parrgash Kaur(Family Wedding Guest). Atul Sharma(Family Wedding Guest). Vinita Sharma(Family Wedding Guest). Azeema Yasmin(Family Wedding Guest). Cliff Dutton(Wedding Guest). Jess Kaur(Brides Friend). Alpesh Malaviya(University Student and Wedding Guest). Frina Mehta(Best Friend at Party). Daniel Eghan(Jake the Football Manager). Sapna Pabbi(Sunaina (special appearance in song 'Sunona Sunaina')). Chiara Marcon(Sunaina's friend) .Kadambari Kiran. Shivakumar Ramachandravarapu((as Siva Kumar)).Gundu Sudharshan. Abdul Zafar((as Abdul Zafarr))
Language Telugu.
Producers Krshna Naganpillai. Navneeth Nagan Pillai. B.V.S.N. Prasad. Yogesh Sudhakara Mallineni.
Production Jyotirmaye Group. Sri Venkateswara Cine Chitra. V Pictures.